Imjin River Columnar Joint
Songdo 8 Scenes Imjin Red Cliff Imjin river Columnar Joint
64-1 Dong-i-ri, Misan-myeon, Yeoncheon, Gyeonggi-do
Show Map
It is the only even in Korea where beautiful vertical columnar joints are developed over several thousands of kilometers as if screens are put up from Hapsumeori (Dogampo) where Imjin River and Hantan River meet to back to the Imjin River to the north. Lava erupted in North Korea Pyonggang County Ori Mountain and 680m Peak formed the wide lava plateau in Cheorwon – Pocheon-Yeoncheon while filling the low ground of old Hantan river and created the basalt layer while flowing backward toward Imjin River upstream. As the lava land was eroded by the river after the volcanic activity ended, the basalt columnar joints of the geometric shape were made along the river.
A joint refers to a narrow gap (or crack) developed on the surface of a rock and if eroded, a rock is split as this crack is widened. A columnar joint refers to a long cylindrical joint and it is known to be the most well developed usually in basalt. Vertical joints are developed in a square or hexagonal shape according to a central point due to the contraction occurring when lava is hardened and if eroded, beautiful columnar joint cliffs are created as a hexagonal shaped stone pillar falls apart. It is also referred to as a red cliff because a cliff is covered with ivy and Mukdenia rossii and looks red.
Imjin River Columnar Joint(Fall)
Since Mukdenia rossii turns red and boasts a gorgeous color in the fall, it corresponds to a typical geological attraction in Yeoncheon where numerous tourists visit. Also, Imjin River columnar joints are the section where Pyeonghwanurigil 2 Course (Imjin Red Cliff Road) of DMZ Tracking passes and scenery along Imjin Riverside is excellent and you can enjoy the luxury scenery made by the harmony of Mukdenia rossii and Cosmos during the season when Cosmos is in full blossom. Called as Jangdanseokbyeok belonging to 'Songdo 8 scenes' referring to eight famous scenic places in the past, the scenery was famous nationwide.
On the other hand, unlike those of Hantan River or Chatancheon, Imjin River columnar joints have no upper layer (unit C) and even now, you can see the process of the columnar joint collapse by vegetation.
Songdo 8 Scenes Imjin Red Cliff Imjin river Columnar Joint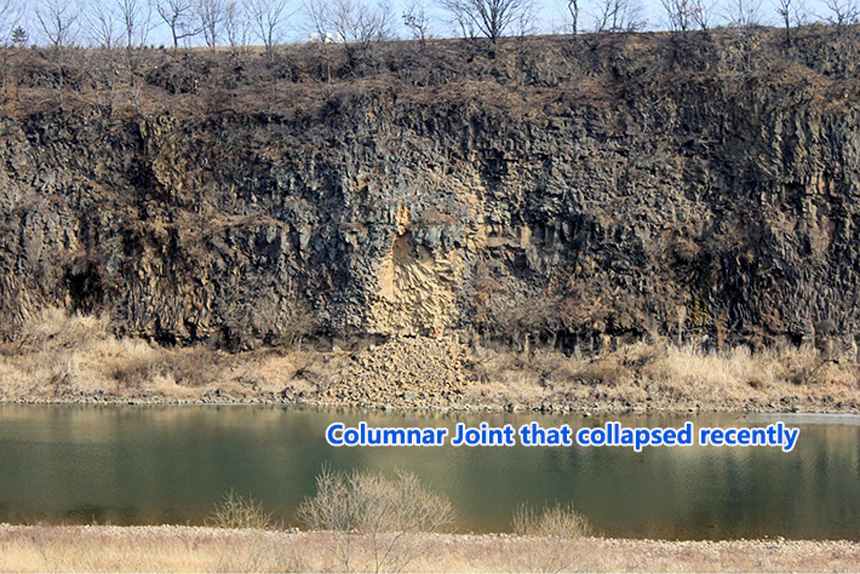 Columnar Joint that collapsed recently
Location